Behind the scenes at iGEM, the world's largest synbio competition for students!
After being a keen follower of the iGEM competition for several years, bit.bio scientist Andreas Andreou was asked to be a judge at the 2022 iGEM competition. Here he gives a bit of background to the competition and what the experience was like.
From the early days of iGEM to the biggest synbio competition
iGEM is not just a synthetic biology competition – it is an integral part of synthetic biology. iGEM had a crucial contribution to the birth, development, and expansion of synthetic biology as a field and continues to inspire pioneering scientists.
The story goes back to the 2000s when Tom Knight had what must have seemed like a crazy idea at the time, to design and build biological systems in the way he was devising computer systems as a computer engineer by profession. In 2003 he published the manuscript "Idempotent Vector Design for Standard Assembly of Biobricks" introducing the concept of modular characterised, standard parts which can be combined interchangeably to hierarchically build devices, circuits, and systems in biological chassis.
Tom was joined by his friend Randy Rettberg another electrical engineer who quit his job as CTO at Sun Microsystems. The team grew with Drew Endy, Junior fellow of Biological Engineering at MIT and Gerald Sussman, Professor of Electrical Engineering at MIT, and Tom's supervisor.
To test the concept of BioBricks, they organised a month-long course during MIT's Independent Activities Period, where students had to design circuits to make cell blink according to the Elowitz repressilator. The next year, the course was transformed into a national competition and the year after into an international competition, the international Engineering Machine (iGEM) competition.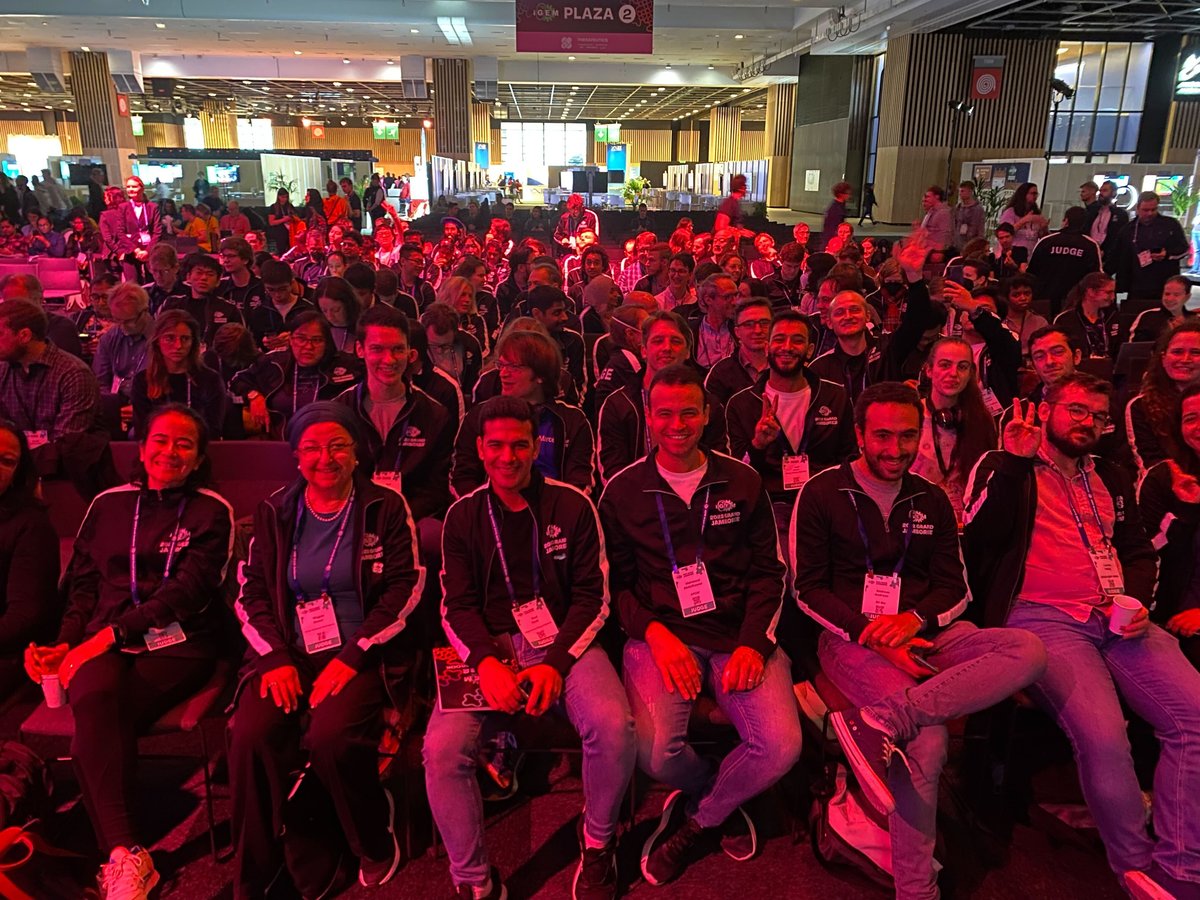 Competitors at the Grand Jamboree in Paris.
iGEM gives participants the opportunity to understand the principles of synthetic biology and apply them to contribute to the field, expand a library of standardised parts (iGEM Parts Registry), communicate SynBio to the public and develop an open community between groups. It is worth mentioning that more than 150 companies have their roots in iGEM such as Ginkgo Bioworks, Opentrons, Benchling, Asimov and SynbioBeta.
Were you a competitor before - what was that like?
I didn't have the chance to participate as a competitor before because, when I was an undergrad student in Athens, synthetic biology had not reached Greece. And when I did my master's degree, overgraduate teams were not yet a part of iGEM. However, I have been closely following the competition since 2013 and from 2017-2020, I was advising and helping iGEM teams at the University of Edinburgh.
When you first signed up as a judge, were you able to specify categories in which you had a personal or professional interest in?
When I was selected to be an iGEM judge, I had to provide my preferences towards different project categories and also state which categories I didn't want to be included. It makes sense to select categories that you have experience with, so you can provide a fair evaluation for the teams and give constructive feedback to the contestants.
How were your first interactions with teams and which projects were you involved to judge?
The first indirect interaction I had with the teams was through their Wikipage, which is an online space where you can find all the information about their projects. The design of the Wikipage is part of the evaluation as it is the place to disseminate their idea and results. On average every judge has 5-6 teams to judge and most of the evaluation is done before the Grand Jamboree starts based on the Wikipage information. Next, there is a formal pitching session in front of the judges, where teams try to sell their projects and judges ask questions to evaluate the level of understanding of the topic they are working on, and ask for clarifications on specific parts of the projects. The presentation is particularly important as it can substantially change the score of the team.
Before the casting of the final votes, there is a meeting among the judges who are assigned to the same teams, in order to hear everyone's opinion and, if possible, come upon a consensus decision. Later, further questions and clarification can be asked face-to-face in the teams' booths (if teams participate in person).
I was involved in 5 projects: a CAR-NK system to battle tumour heterogeneity, from NMU-China, a project to degrade polycyclic aromatic compounds from NPU-China, a project to produce serotonin and fight depression from UPNAvarra Spain, an enzymatic pathway upcycling of PET plastics into higher value chemicals from Uppsala team and finally a gene circuit using quorum sensing for targeted detection and elimination of Streptococcus mutans for better oral hygiene from ZJUT-China.
How did teams handle difficult questions?
In general, teams were well versed in answering difficult questions because they have done an exhausting investigation of their topic. There was a division of the work and each team member specialised in a specific part of the project.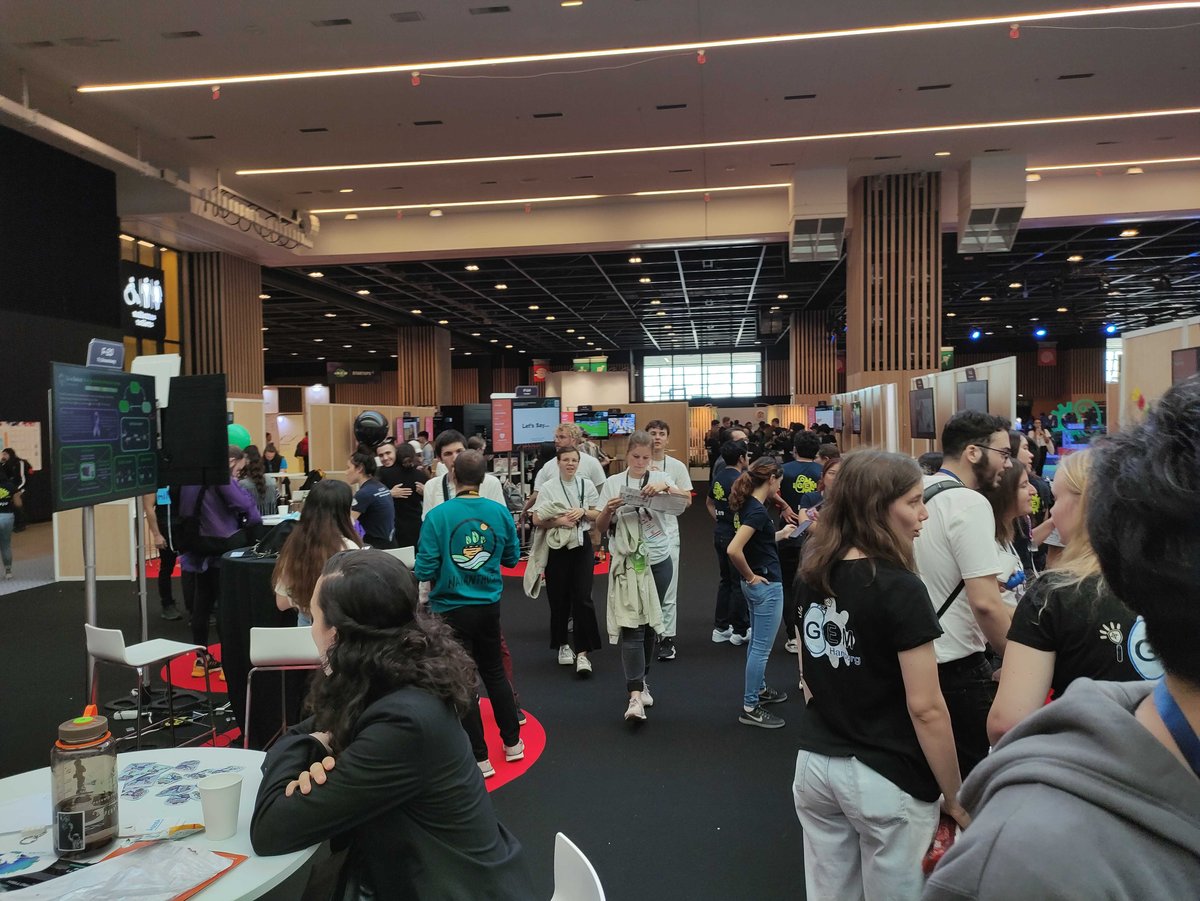 The Grand Jamboree in Paris where teams were presenting their iGEM projects.
What have you learned from the overall experience?
I was amazed by the excitement, passion, energy, commitment, and creativity of the teams. It is a celebration of synthetic biology with thousands of people, in the same place, sharing the same vision, mindset and philosophy. It is the best place to find out about cutting-edge technologies and trends in SynBio and get fresh ideas and inspiration. It is an exhausting task to be a judge – with a full schedule during the competition but it's definitely worth it for the whole experience.