Employee Spotlight | Dr Fuad Mosis
Name | Fuad Mosis
Role | Scientist - Phenotyping
Joined | 2021
Academic background | PhD in Cell Biology at King's College London
Tell us about yourself? What is your background?
I am originally from London where I have lived most of my life before moving to Cambridge to join bit.bio. My working background is primarily academic, having completed an MSci in Biochemistry before moving on to a PhD in Cell Biology at King's College London. During this time I really enjoyed playing around with microscopes and taking pictures of cells doing interesting things and behaving in different ways. I also enjoyed working with different forms of image analysis tools and softwares, which really showed me how important data analysis is and how we can use it to pull out quantitative information from pictures of cells. I worked at King's for a bit longer before moving on to Imperial College London, where I used imaging techniques to study receptor clustering.
When did you first become interested in phenotyping of human cells?
I think the study of stem cells and their transformation into all types of human cells is something that would excite anyone in the field, and it certainly caught my attention during my time at King's. I went to seminars and journal clubs that focus on stem cells and their differentiation and continued to follow the field from then on. At the same time I was pursuing my love for imaging and microscopy, but it is only since I joined bit.bio that I've merged these fields. One of my favourite things about my job as an imaging scientist is that I get involved with experiments with a variety of cell types, and I think it's incredibly exciting to learn about and be involved in the development of so many different cells.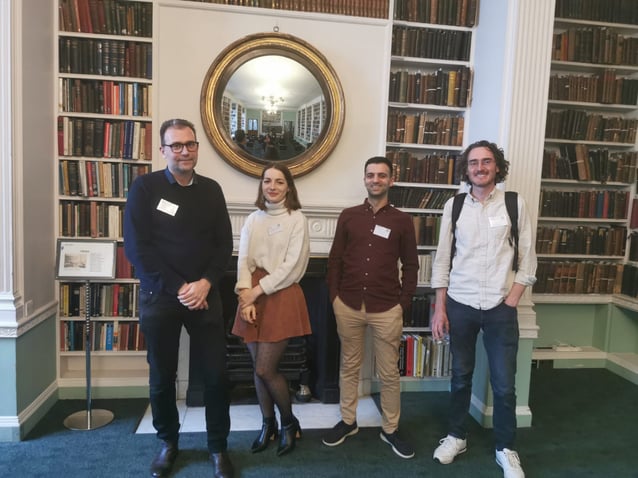 Fuad with the members of the bit.bio phenotyping team after giving a chalk talk at a recent symposium hosted at the Royal Institution in collaboration with the London Institute of Mathematical Sciences.
As well as the academic background what skills do you think you need in the candidates joining your team?
I would say the most important thing for anyone in our team is a willingness to learn and an openness to collaborate. bit.bio has exemplified the importance of teamwork and collaboration between different teams to yield amazing results, and the same applies for the Phenotyping Team. I work with flow cytometry scientists, bioinformaticians, cell biologists, and project managers to name a few, and my relationship with people from these teams has been much more of an asset than my academic background. Of course, an understanding of basic cell biology and experience with imaging or flow cytometry is also very important, and we are always excited to learn about new ways to analyse our cells so bringing that knowledge in is also a plus!

If you're keen to find out more about what my role is like or discuss what roles we have available then just find me on LinkedIn!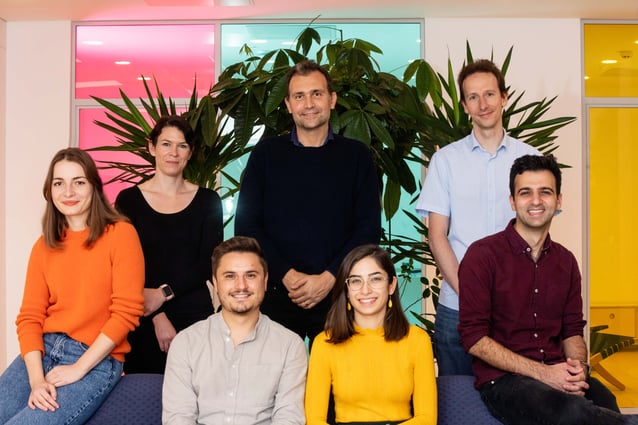 Fuad with the members of the Phenotyping team in the bit.bio office space.
What do you enjoy outside working hours?
I like to relax by reading or going for a long walk with a library of podcasts or an audiobook. As a long-time fan of the James Bond franchise I am finally making my way through all of the many 007 novels. I also enjoy playing with all different types of technology and currently trying to build my own computer. Although I must admit that as a recent proud owner of a PlayStation 5, gaming has been taking up most of my spare time!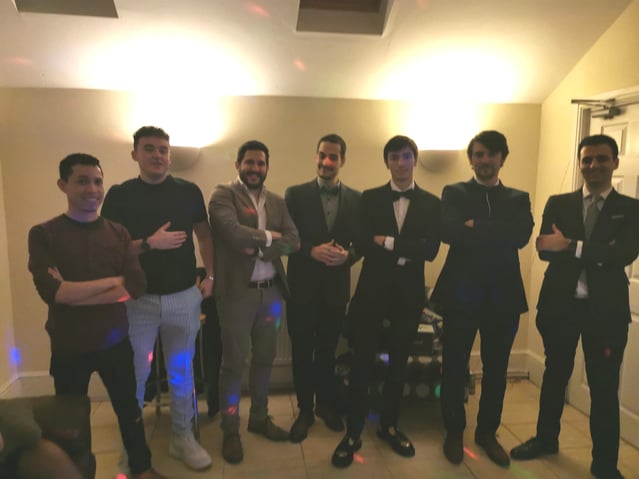 Fuad organised a Bond event for his work colleagues.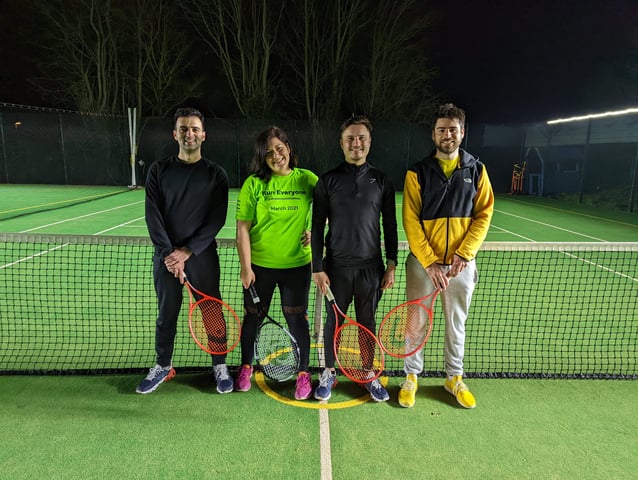 Fuad with the members of the bit.bio team playing tennis on Wednesdays after work!
What's the culture like at bit.bio?
Fantastic. One of the great things about bit.bio is the collaborative and friendly nature amongst the various teams across the organisation. It's an incredibly welcoming and inclusive environment with a real emphasis on personal development and well-being. Ever since I have joined bit.bio I have felt like an important part of the company and a member of the team that has a voice and helps drive the organisation to our common goals, and this makes coming into work every day an incredibly exciting and rewarding experience. There is also always something going on with the social side of the company and these are always good fun to attend, whether it's a board game night, the weekly tennis match, or a weekend away at the seaside!