Sitting down with… bit.bio
Dr Farah Patell-Socha, VP of Research Products discusses the launch of ioSkeletal Myocytes, the powerful technology behind bit.bio's ioCells and our future vision to accelerate biomedical research.
Our VP of Research Products, Dr Farah Patell-Socha, recently spoke with Drug Discovery World about the launch of our new product, ioSkeletal Myocytes. Dr Patell-Socha explains how these phenotypically characterised human iPSC-derived muscle cells provide clear benefits when compared to primary cells and consequently, are set to supercharge drug development and disease modelling.
Overcoming challenges in drug discovery workflows
There is a great need in the industry for physiologically relevant, translational human muscle models for drug development and research into muscular dystrophy, metabolic diseases and the neuromuscular junction. Traditional animal models do not provide biological relevance, whereas primary cells and alternative iPSC-derived models fail to provide consistency between batches and over time. In the article, Dr Patell-Socha highlights how we are at a turning point in biology and how our powerful technology, opti-ox™, is enabling the creation of biologically relevant human iPSC-derived muscle cells, consistently at scale. This same technology will unlock the promise of cell therapies, with the ability to generate an unlimited supply of consistent cells to form a new generation of personalised and precise medicines.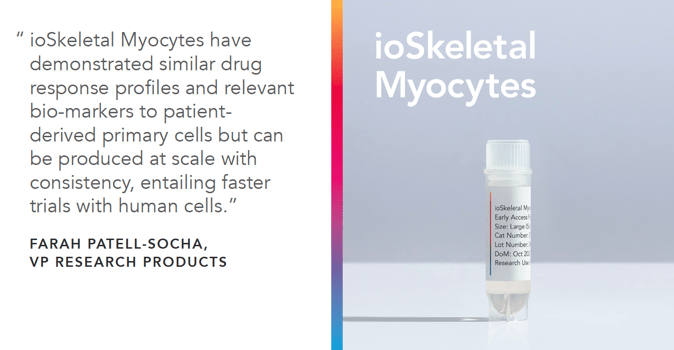 Find out more about bit.bio's ioSkeletal Myocytes
Ongoing research and development
Dr Patell-Socha also discusses bit.bio's vision to accelerate biomedical research and create a new generation of cures. As part of this vision bit.bio will be launching 20 human cell products over the next three years. Dr Patell-Socha highlights that bit.bio works in close partnership with pharmaceutical and academic communities to fast-track the development of specific disease models.
To discuss your strategic partnering needs, get in touch.
Find out more about how bit.bio are transforming the research and medicine landscape in the full interview with Drug Discovery World Journal here.