Dr Ramy Ibrahim discusses cell therapy
Our three part series in collaboration with Pint of Science wraps up with Dr Ramy Ibrahim, bit.bio's Chief Medical Officer and a leading immuno-oncologist. Listen to the last episode to find out about his work at the forefront of this emerging field, helping to develop several breakthrough therapies and also about his alternative career ambition - to be a scuba diving instructor!
The Pint of Science podcast is a part of the Pint of Science Festival, the world's largest science communication festival. It gathers thousands of science curious people worldwide to introduce science in a fun, engaging, and usually pint-fuelled way.
Ramy gives an introduction to the field of immuno-oncology and how it evolved with its breakthrough in 2011 when the US FDA approved the first checkpoint inhibitor in melanoma. He explains how bit.bio then caught his attention in the very early days when he was Chief Medical Officer of the Parker Institute for cancer immunotherapy where there was a lot of focus on how to leverage cell therapy, and really turn it into an effective therapy for solid tumours.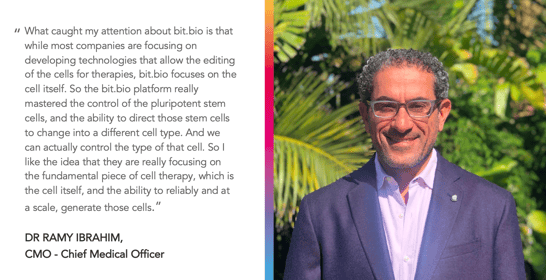 Interested in what created renewed attention around the concept that cells can be reprogrammed and was certainly an inspiration for the science that is now the foundation of bit.bio? Then visit our bitesize review of the science that enables bit.bio technology to exist.