Meet Bit Bio as cell coding firm retires the Elpis Biomed name
Bit Bio is the name of the newest cell coding company in Cambridge following a relaunch at Kettle's Yard on Monday (October 14).
The rebrand took the audience by surprise. The first inkling that a name change was afoot was a remark by Prof Patrick Maxwell, Regius Professor of Physic and head of the School of Clinical Medicine of the University of Cambridge, near the end of his speech which celebrated the work by the university to support spin-outs.

"The mission in Cambridge is at the highest level of science, and it's an excellent ambition and we can only achieve it through interaction with the commercial world, and for that we need brilliant academics such as Mark [Kotter, CEO of Bit Bio] to take the discoveries into the world.

"It takes a really big investment over a long period of time to change the world and I think we have something special here in a great environment, which all of us here are pleased to be able to support.

"However, although I'm not a brand consultant, I'm not sure about the name 'Elpis', so that's one bit of feedback for you."

Ten minutes later Elpis Biomed became Bit Bio: a video was shown, illustrating the journey to the new name, and Dr Kotter talked through the journey from his initial experiments to the current formula for "a synthetic biology approach in which you change the cell by rebooting the stem cell with a new programme".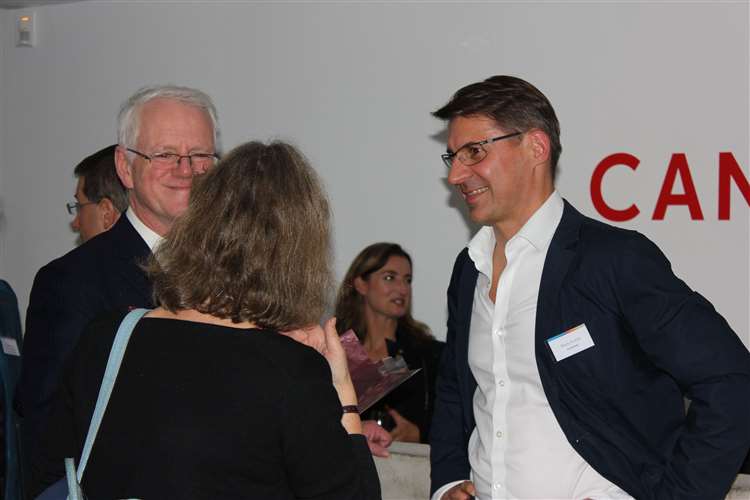 Bit Bio CEO Dr Mark Kotter, right, with Prof Patrick Maxwell, Regius Professor of Physic and head of the School of Clinical Medicine of the University of Cambridge. Picture: Maddy Parr

The new programme is called opti-ox – "optimised inducible over-expression" – and ushers in a new era of hugely efficient cellular reprogramming at scale.

Commenting on the initial use of the word 'Elpis', a Greek word meaning 'the spirit of hope', Dr Kotter said: "The transition from hope to reality prompted us to transition our new name, and our new name is BitBio.

"Bits are the building blocks of code and biology is the building block of life and we've put the two together."

Bit Bio is nothing if not ambitious. "Our moonshot goal is to develop a scalable technology platform capable of producing consistent batches of every human cell," said Dr Kotter.

The company, the Start-up of the Year winner at the 2018 Cambridge Independent Science and Technology Awards, began life in 2016.

At the time, Dr Kotter started the experiments which resulted in a single stem cell being replicated countless times with unerring accuracy and quality, he was – still is – an academic neurosurgeon and honorary consultant at the University of Cambridge, specialising in complex spinal surgery.

The company he founded is now based in the Abcam building on Cambridge Biomedical Campus and the first clients for its newly discovered cell biology approach are already in place (though they can't yet be named).

Prof Maxwell was followed to the podium by Prof Marie-Claire Cordonier-Segger, centre fellow at the Cambridge Centre for Environment, Energy and Natural Resource Governance, who spoke on how new technology can – indeed must – help global sustainability.

Bit Bio's default position is geared towards sustainability. Dr Kotter is co-founder of Meatable, which builds non-animal steaks. He believes the cellular technology developed by BitBio will reduce the number of animals being tested on and will alleviate their suffering for humanity's sake.

The third speaker at Bit Bio's 'The Next Chapter' event was Sara-Jane Dunn, a scientist based in the biological computation group at Microsoft Research Cambridge and an affiliate PI at the Wellcome-MRC Stem Cell Institute.

Speaking of progress in biology, Dr Dunn said the field "needs experimentalists, data scientists, business people and cognitive scientists to interpret the data". Coding cells "has caught the attention of the biology community and biology has caught the attention of the AI community".

"Based on my experience and understanding, there are a number of ways in which AI can accelerate knowledge but we have to be mindful and not overhype," she said. "We have to learn first and foremost that these tools must be led by human ingenuity."

Speaking exclusively to the Cambridge Independent, Prof Maxwell commented: "As the head of a medical school, I try to help new, worthwhile things to happen, and Mark is a talented young neurosurgeon and I see my job as helping him navigate that landscape, though in his case he's very good at taking the lead and I'm not sure I am that much help…

"I want people to be open to the application of their work. Those working in monoclonal antibodies discovery are motivated by curiosity but that is greatly helped by people developing a product or a medicine. I think that's quite infectious. Once someone's done it, people will think 'if they can do it I can too', and that generates excitement."

Bit Bio's CFO and COO, Florian Schuster, said: "We deeply honour the university and are delighted and honoured to have Prof Maxwell here."

Original cambridgeindependent.co.uk article