Employee Spotlight | Jade Brash
Name | Jade Brash
Role | Senior Automation Scientist
Joined | 2021
Academic background | BSc(hons) Biological Sciences
Tell us about yourself? What is your background?
Originally from Fife, Scotland, I am the first in my family to attend and graduate University. I attended Heriot-Watt university studying Biological sciences, and graduated with a first in 2016. After graduating, I started my career working for Quintiles as a Medical Lab Assistant progressing to Scientist over two years. This initial position introduced me to automated processes and ignited the interest. From then, I moved down south and took a scientist position at GSK, using this opportunity to expand my knowledge and practical skills and develop my interests.
Beside progressing from Medical Lab Assistant to Scientist Jade is also making progress in the gym!
How did you get your job at bit.bio - what path did you take?
While at GSK, I was involved in a project to design a fully automated protein purification platform, which was successfully used to purify 96 x 30mL cultures in <8hrs. This at the time was the highlight of my career, however, my opportunity to be involved in more projects like this was limited and hence I started to look for more specific roles. This is when I came across the senior automation scientist position at bit.bio. I was drawn in by the company ethos and drive and after speaking to the team, knew this would be a good fit for me. I was lucky enough to be offered the position and have since been able to grasp the challenges of the job with both hands.
The Manufacturing Automation team supports the development and implementation of automated platforms across the manufacturing group. What is your role within the team and what liquid handling automation platforms is bit.bio using?
My role at bit.bio as senior automation scientist is to lead the implementation of automated platforms in the manufacturing department. This is no small task as I soon realised when it became evident that there was no automation on site. My job involves the research, design, optimisation & process development, implementation and training of all automated platforms and instrumentation within manufacturing. It is a very unique position to be in to start with nothing and essentially design the lab of the future for bit.bio. As we wait for our lab expansion to house our bigger automated platforms we are currently implementing smaller interim solutions, such as controlled rate freezing, automated liquid handling (integra Assist & Felix) & higher throughput processing for counting and cell health.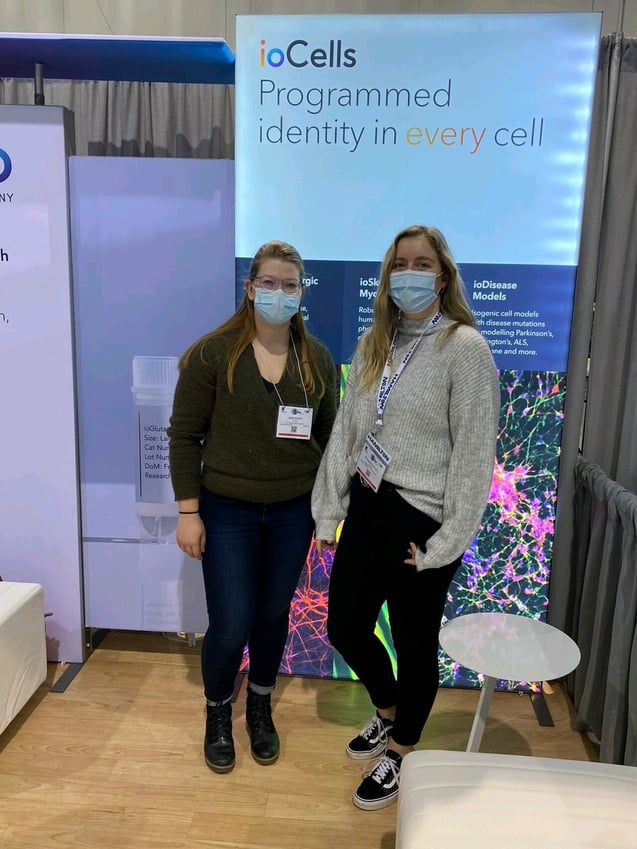 Jade and Elizabeth in front of our booth at the Society for Laboratory Automation and Screening Conference.
What would you consider good skills and qualifications for your job? And how do you use them on a day-to-day basis?
A basic working knowledge of cell biology and a curiosity to expand and learn is key for this role, as all other skills can be learned. However, stem cell experience would be beneficial and experience with automated platforms such as Tecan, Hamilton or Felix would also be beneficial. I anticipate this role day to day, will incorporate a lot of hands-on lab work with the aim of optimising processes for automation, assisting with the scripting of the processes and implementation + roll out to the team.
What's the culture like at bit.bio?
bit.bio is like nowhere else I have ever worked. Having been here for about a year now, it is clear that the culture of the company is of the utmost importance to the senior leadership. We are a team, and everyone is there to welcome, help or even just have a coffee with. The scientific community thrives on our open collaborative culture. One very specific difference I have found at bit.bio is the disregard for hierarchy. Of course we have seniors but unlike other companies I have worked at, a senior member of staff wouldn't think twice about asking a junior for help and your experience and expertise is valued regardless of your standing at bit.bio and this is truly unique and results in an equal team environment.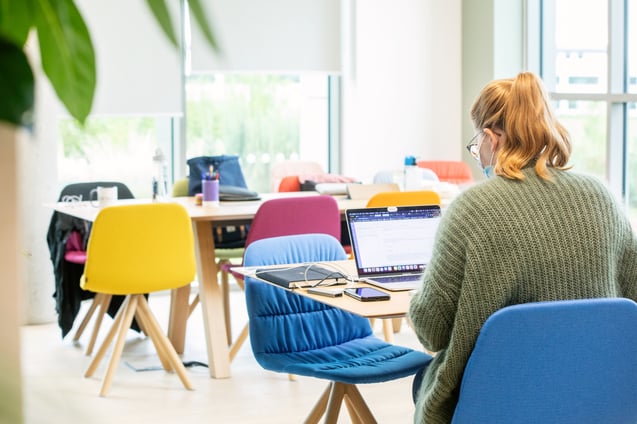 Jade in the bit.bio office space!
What achievement are you most proud of and what are your future goals?
I am so proud of the progress made in such a short space of time. We have managed to implement vital interim solutions for the team that have resulted in improved rates of recovery, reduced timeline, improvements on cell health and ease of working for the team. We still have a long way to go and the ultimate aim is to create the lab of the future with fully automated solutions for the manufacturing department. This is no small feat as what we are trying to achieve has never been done before but with collaborations, custom solutions and a bit of innovative thinking, I am sure we can achieve this.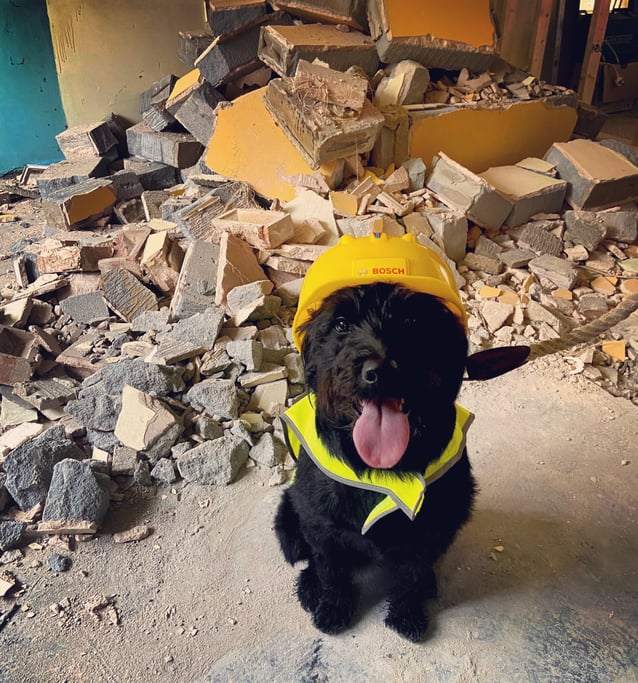 Jade's cute helper Thea in her house renovation project!
What do you do in your spare time?
bit.bio is very clear on maintaining a healthy work life balance and I fully adopt this. I always have a project on the go. At the moment, I am doing a full house renovation with my partner which we document on Instagram[@theas_hammer], we have essentially rejigged the floor plan, ripped everything out and are currently building back up which, although hard work, we find incredibly satisfying. And when I am not covered in dust and paint, I enjoy weightlifting and hiking with my two dogs.