Employee Spotlight | Dr Oliver Dovey
Name | Dr Oliver Dovey
Role | Director of Functional Genomics
Joined | 2020
Academic background | Undergraduate degree, University of East London, human physiology - first class honours and awarded the Dean's prize for academic excellence.
PhD at Leicester University, Cowley Lab, Department of Biochemistry, Leicester, UK: studying how chromatin and chromatin modifying enzymes impact stem cell differentiation and signal cellular lineage decisions.
How did you get to your role at bit.bio?
I would say it has been a steady and purposeful progression - from research assistant, through to PhD student, post-doctoral scientist and subsequently head of the Gene Editing Team at the Sanger Institute. I have made methodical and sometimes sideways steps to work in groups with a strength in pioneering technological and technology platform development. Leading the Gene Editing group at the Sanger Institute, and as part of the wider division of Cellular Operations, we were able to democratise the delivery and application functional genomics solutions to biological problems. Forming a core component of a unique set of groups, collectively charged with delivering complex, bespoke solutions as well as science at scale, we contributed novel platforms, processes and technological solutions. In a short period of time, we developed a strong identity for agile delivery and collaborative scientific endeavour.

I was already aware of opti-ox and had spent some time thinking about its numerous applications - in particular I had been considering the application to the hundreds of disease models my team had generated, including complementary high throughput screening methodologies. By happenstance I was introduced to the CEO and founder of bit.bio, Mark Kotter. Among many things we discussed science, building teams and team culture, the rest as they say is history. I joined in September 2020 and the following year the bit.bio's Department of Functional Genomics was created.
What does your team do?
Our mission of coding cells - combining synthetic and stem cell biology - offers limitless possibilities and my department is instrumental in enabling the next generation of cellular therapies, best in class research screening tools and development of advanced synthetic circuitry. Our role is to continuously develop our technological platforms so we are made up of several diverse groups led by experts in the fields of cellular engineering, screening, technical development, synthetic biology, automation and next generation sequencing. The diversity in our expertise and accountabilities has evolved into a unique group and we are working towards achieving the company's ambitious goals - utilising state of the art, complementary technologies to ultimately disrupt the cellular therapeutic space.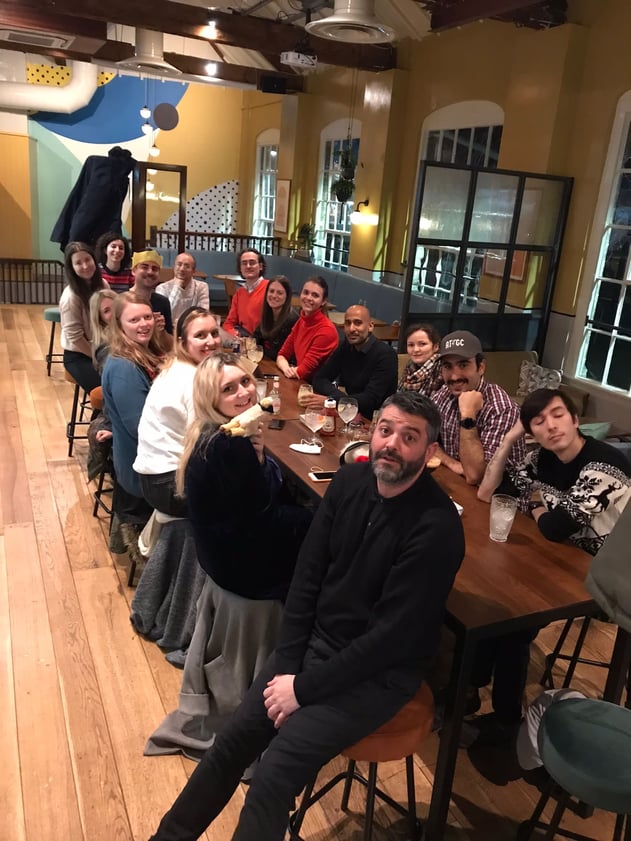 Oliver and his team.
What's it like to work at bit.bio in your team?
I've always run towards a challenge, both personal and scientific - I expect that from our people. The team challenge themselves, each other, actively contest the status quo of biology and push the current limitations of technology. The field moves quickly and in an evolving company this presents many challenges. However, we have a strong and unified vision of what we wish to achieve and the culture we wish to achieve this in. We have a highly collaborative team, skilful, innovative and trusting. This collaborative approach also allows us to bring in external capability through strategic partnerships in genetic engineering, NGS, automation and synthetic biology. Through building innovative and hypothesis driven platforms, capable of iterative learning through data, we learn from failure - we do not undertake tasks unless we can learn from them.

If you're interested in a role that is looking to answer fundamental biological questions and being a part of a unique and interconnected team then functional genomics could be for you! Check out our current open positions.
And what do you do in your spare time?
Reading, sport and DIY typically dominate my spare time - currently reading 'A farewell to arms' by Ernest Hemmingway and 'JFK' Volume I' ( the originator of the 'moon shot' goal) by Frederick Logevall. I have a keen interest in team and business culture. I'm always looking for inspiration on methods to improve my own leadership skills and strategic thinking. Having 'evolved' into an arm-chair sports fan, the safe opening up of football stadiums has been great! Getting back to Fratton Park (home of Portsmouth FC) with my son has been a welcome return.