Employee Spotlight | Sumon Sur
Name | Sumon Sur
Role | Senior Scientist - MSAT
Joined | 2022
Academic background | BSc Pharmacology, University of Bristol; MRes Cardiovascular Sciences, University of Manchester; PhD Molecular Medicine, University of Göttingen Germany
Tell us about yourself? What is your background?
I initially studied a BSc in Pharmacology at the University of Bristol, followed by an MRes in Cardiovascular Sciences at the University of Manchester. During this time, I became interested in growing stem cells in the lab with the potential of them being used for new tissue for in transplants and to treat many human diseases. This curiously led me to embark on a PhD abroad at the University of Göttingen in Germany in the field of cardiac tissue engineering, stem cells and regenerative medicine. After 7 tremendous years abroad living in Germany, I moved to Cambridge in 2018 and transitioned my career from academia to biomedical industry. I worked for a company developing a Liver-on-chip platform for drug screening applications, and I had the opportunity to learn how to generate both induced pluripotent stem cells (iPSCs) and liver cells derived from iPSCs. Thereafter, I worked in a company developing a stable protein delivery technology for research and therapeutic applications. Over the last 10 years, I feel privileged to have been working with human pluripotent stem cells which has been a constantly evolving field with many exciting discoveries!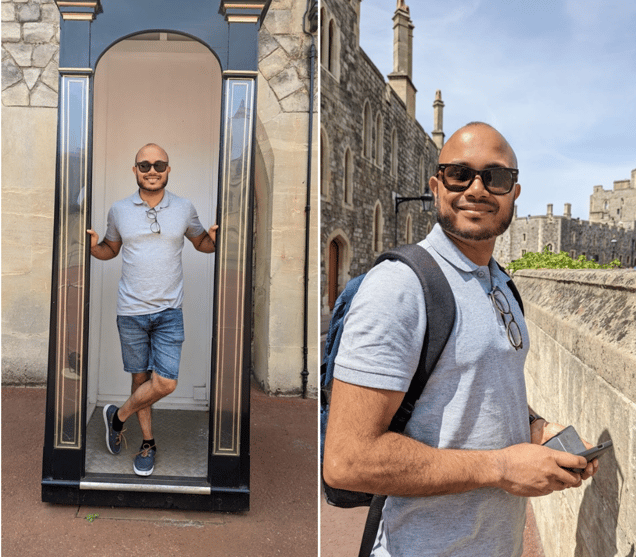 Sumon taking a weekend visit to Windsor castle.
How did you get your current role? What was the career path?
As I have worked in several biotechnology companies in Cambridge, I have been previously following the growth of bit.bio since their early days (right back to the Elpis Biomed name!) when they were a spinout from the University of Cambridge. I was aware that bit.bio were growing and looking to expand their manufacturing capabilities. I came across the process development scientist position in the MSAT team. Knowing very well that this was an opportunity to be part of the bit.bio team during an exciting stage of company growth and and to work with their ground-breaking technology, I applied for the role.

With my experience with human pluripotent stem cells and producing various cell types and my desire to transition from R&D to process development in manufacturing commercial products, this was a great opportunity to take on an exciting new challenge. I was lucky enough to be offered the position. I have now been part of the bit.bio team for over a month and I look forward to challenging and exciting times ahead!
When did you first become interested in manufacturing development of human cells?
I first became interested in human cell manufacturing during my PhD time in Germany, generating and scaling up the production of human pluripotent stem cell-derived cardiomyocytes. The ability to make beating heart cells in a culture dish within weeks and looking at them rhythmically beat under the microscope still really thrills me to this day! Back then, the biggest hurdle for producing human cells from stem cells back then was limitations in batch reproducibility with conventional stem cell direction differentiation approaches. I am tremendously excited at the potential of bit.bio's opti-ox™ precision reprogramming technology to manufacture scalable batches of human cells with greater consistency, precision and speed for research, drug discovery and cell therapy.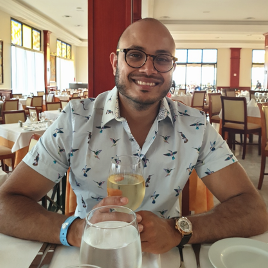 Sumon on summer holidays in Tenerife, Spain.
As well as the academic background what skills do you think you need in the candidates joining your team?
bit.bio's manufacturing team is fast-moving and rapidly growing. Candidates need to be agile, driven, meticulous and passionate for science yet process orientated. As the manufacturing team is gradually transitioning towards automated processes; candidates need to be adaptable to change, forward thinking and excited about working with cutting edge technologies. Experience with human pluripotent stem cell biology, characterisation and culture systems is highly favourable. bit.bio places such a strong emphasis on company culture and collectively as a whole, we value; respect, collaboration, openness, curiosity and creativity.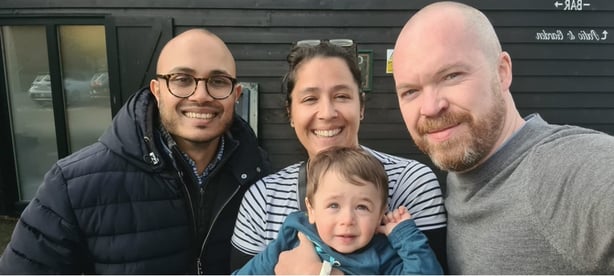 Sumon enjoying family time.
What do you enjoy outside working hours?
I like to be creative in my spare time. I enjoy painting, sketching, playing guitar and breakdancing. I also enjoy running, cooking, travelling, whisky tasting, reading and meditation to help me relax and unwind.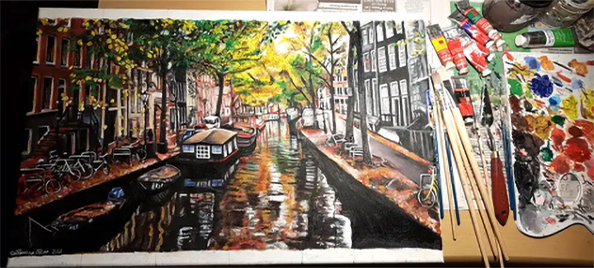 Sumon's artwork.
What's the culture at bit.bio like?
Since joining bit.bio a month ago, everyone has been incredibly welcoming! I feel there is a great sense of purpose, collaboration and friendly nature amongst the various teams across the organisation. It is a vibrant and dynamic work environment, and the scientific community thrives on its open collaborative nature. On the social side of the company, there is always something going on which is good fun to attend. The scientific leadership team at bio.bio really encourage creativity and open mindedness from everyone to contribute to the success of the company. I am incredibly proud to be working in an organisation which is highly ambitious, constantly growing and places such a keen emphasis on the culture of the company.