Employee Spotlight | David Hoffman
Name | David (Dave) Hoffman
Role | Head of Intellectual Property
Joined | 2020
Academic background | Transylvania University B.A., Biology, University of Colorado Boulder PhD, Molecular, Cellular, and Developmental Biology, Cornell Law School J.D., Law
Tell us about yourself? How did you get your role at bit.bio?
I studied biology at Transylvania University first as I thought I was going to go into further studies of molecular cellular and developmental biology, which I eventually did later, obtaining a PhD. But during that time I discovered what a patent attorney does and decided that was something I wanted to do - so I did further training to get into the law field. Now my work includes patent application drafting and prosecution throughout the full patent life cycle in the US and key international jurisdictions (e.g., Europe, Australia, Canada, Israel, Japan, and China), working with university technology transfer offices, as well as strategic client counselling (e.g. due diligence review of patent portfolios, non-infringement and invalidity analyses and opinions, and product clearance freedom-to-operate analyses).

Over my career I've also built up substantial experience in reviewing marketing and other promotional materials for compliance with applicable laws, data sharing and security issues (US and EU), patent litigation, and European oppositions, negotiating a wide range of contracts, including patent license agreements, clinical trial agreements, materials transfer agreements, and commercial supply agreements, and limited experience with open source software licensing.

I was working at Parker Institute for Cancer Immunotherapy as Executive Director of Intellectual Property when I first met bit.bio. There was an event in Bay Area in late January 2020 where Ramy Ibrahim, bit.bio's CMO, introduced me to Mark Kotter and Florian Schuster. After getting to know about bit.bio and the vision of the company, I decided to take the leap into working full time in a start up as a Head of Intellectual Property.
What would you consider good skills and qualifications for your job? And how you use them on a day-to-day basis?
To be successful as a patent attorney, you have to be detail oriented and have a passion for science. Even though I have been working as a patent lawyer for 18 years now, I still identify as a scientist first, then a lawyer – and that's because I am still fascinated by science.
What's it like to work at bit.bio?
My team is currently rather small – though I can say it has doubled in size this year, with the addition of Rachel Machado as Senior Contracts Manager! The legal team is always busy, as we support nearly every area of the company – but it's a great opportunity to be aware of what's going on across the company.

It's always very dynamic, for example, in just one week we can be refining a collaboration contract with a key partner, working with the science team to define and file a patent or looking to trademark a new brand or tagline.

The culture at bit.bio is open, friendly, and collaborative, and still retains a little feel of the academic lab, where you can always sit and have a chat with a colleague over a cup of coffee. I like that very much. Even though I'm based in the US I still feel connected to the rest of the team, as there are lots of virtual events, time for bonding and I visit the UK pretty often for meetings as well.
What achievement are you most proud of and what are your future goals?
One of my proudest moments was crossing the finish line at the Vineman Ironman Triathlon in July 2016: this was a full-distance triathlon, starting with a 2.4 mile swim, then a 112 mile bike ride, and finally running a marathon. It took me about 15 hours, but I felt good when I finished.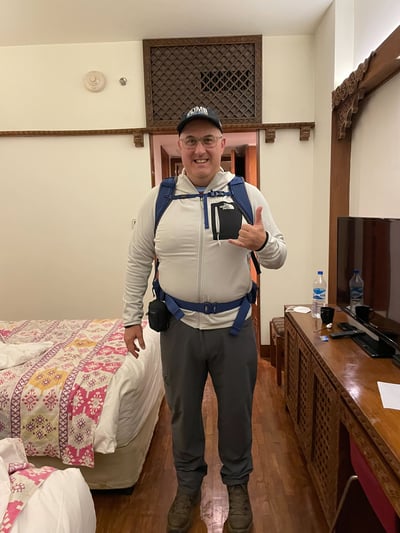 Dave getting ready for his base camp trek!
I am also proud of my commitment to raising money to support cancer research. In 2019 I signed up for the Climb to Fight Cancer, a fundraiser to benefit the Fred Hutchinson Cancer Research Center in Seattle. I am part of a team of 18 biotech industry professionals that each committed to raise $50,000 to support cancer research at the Hutch and will be trekking to Everest Base Camp in Nepal starting March 25, 2022. And bit.bio is extremely supportive of these sorts of activities and interests.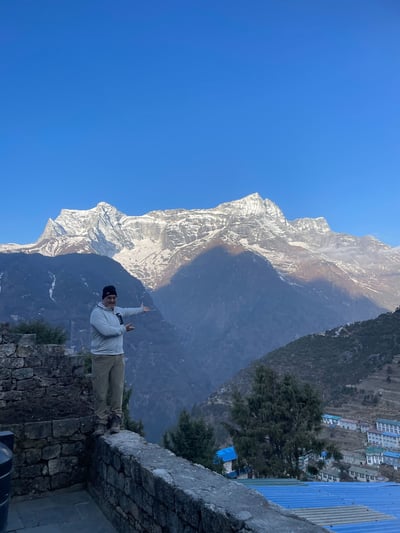 Dave and the view from a guest house in Namche Bazaar.

What do you do in your spare time?
My girlfriend and I like to hike in parks and open space preserves around the Bay, walk Maggie, my elderly Labrador retriever (she turned 12 in January), and cook with friends.